Digital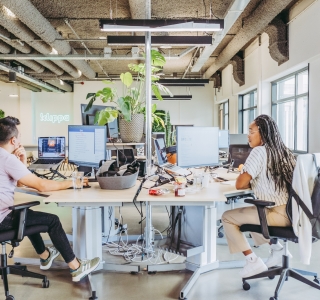 Digital
In Groningen, digitalisation is accelerating the transition from the old to the future-proof economy. In a multidisciplinary way, it looks at the social impact of digitalisation. How can we as people deal with the digital world? What can these new possibilities mean for our security and our democracy? And how can they help accelerate our 21st century ambitions?
Putting innovative Groningen on the map
MXT
In early January 2023, tech entrepreneurs and investors came to Groningen from all over Europe for the MXT: the first edition of Europe's tech & music festival. The place where investors, entrepreneurs and talents get the chance to network, share knowledge and meet each other. Why is this event taking place in Groningen? Because in Groningen we have a rich digital scene where for years we have been working together very well and successfully for years. This is where we strengthen each other. This makes Groningen entrepreneurs better, faster and more impactful. The MXT event lasts three days and takes place at the same time as the music festival Eurosonic Noorderslag. The first edition of MXT featured numerous workshops, meet-ups and keynotes by speakers such as special envoy Constantijn van Oranje, Tom Holkenborg (Junkie XL) and Sebastiaan Hooft.
Read more
The future of working together
Odyssey Momentum
Taking collaborations to the next level? Odyssey is a digital-native foundation that aims to empower everyone to shape their future together. The organisation wants to take the collaboration potential between people, organisations and communities to the next level and therefore developed Odyssey Momentum for this purpose. This is a metaverse for collaborations that allows people to freely create their own spaces, initiatives and communications.
Read more
Fighting online crime
Web-IQ
How do we deploy to protect our security? Web-IQ knows how. Thanks to OSINT (Open Source Intelligence), they collect and analyse data obtained from public sources, such as the darkweb . With their software, Web-IQ helps national and international clients detect criminal activity. Thanks to a motivated team of software developers, data scientists, analysts and domain experts, Web-IQ fights crime worldwide.
Read more
Cybersecurity North Netherlands
Hanze University of Applied Sciences
With increasing digitalisation, the number of cyber-attacks is also growing. As a result, cybersecurity is becoming an increasingly important issue within our society. Especially for many (SME) companies, it is a challenge to digitise and develop secure products. Cyber Security North Netherlands investigates how we can protect society from cyber-attacks. Moreover, the  Ministry of EZK has explicitly named the province of Groningen as a leader in the field of digital economy and security. 
Read more
Drie Groningse bedrijven in AI
In Groningen werken we hard aan de wereld van morgen. De stad heeft een sterke focus op duurzaamheid, zorg en innovatie, en het bruist er van de energie. Het is dan ook niet verwonderlijk dat veel innovatieve bedrijven hier gevestigd zijn. In Groningen is de toekomst al begonnen.