Energy & Digital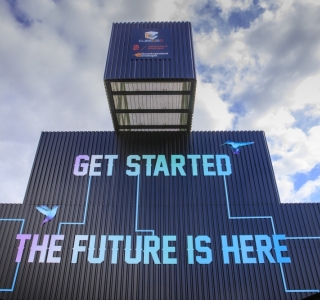 With 400 years of experience as an energy region, Groningen has all the necessary knowledge, infrastructure and professionals to achieve a completely new sustainable energy system. An integrated green hydrogen chain. Not for nothing has the Groningen region received the designation Hydrogen Valley. Digitalisation allows us to use energy smarter to accelerate the energy transition.
Using energy smarter to accelerate the energy transition
Envitron
Saving energy starts with insight. Envitron's smart energy solutions help companies gain that insight and then use self-generated energy in the best possible way. Using a universal energy controller, they collect and combine data on the various energy flows within an organisation. From there, the information finds its way to the cloud. There, all information is translated into one type of data, which is presented via a clear dashboard. The result: exact insight into energy consumption, costs and suggestions to reduce usage or even regulate it fully automatically.
Read more
Developing an innovative solution for the offshore renewable energy sector
Ocean Grazer
Windless and still generate wind energy? Thanks to the Ocean Battery, it can be done. A scalable, modular solution for large-scale storage of electricity produced by wind turbines and solar farms at sea. Since 2014, Groningen startup Ocean Grazer has been developing the Ocean Battery. A concept that allows generating sustainable energy during windless or cloudy days. Ocean Battery is a pumped hydropower system that enables environmentally friendly energy storage. The company is currently focusing on bringing their remarkable innovation to market.
Read more