Food & Digital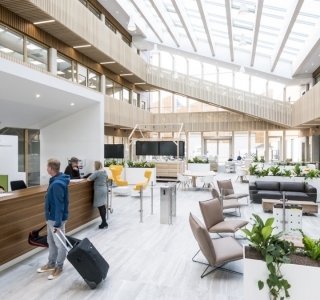 In Groningen, we are making the shift from the linear to the circular food economy. As an experimentation zone for sustainable food systems, we are experimenting a lot: from nature-inclusive growing of crops to protecting crops from diseases and inventing new uses for crops. Innovations in agro-tech help us improve cultivation.
Making precision agriculture accessible to every farmer
Agrifly
Arable farmers can measure differences in growth stages between plants thanks to Agrifly's 5G drone. The drone sends the data it collects and route it via a server at the University of Groningen to the arable farmer. The arable farmer can then provide his crops with the right amount of nutrition and protection.
Agrifly collaborates with 5Groningen, a unique and innovative partnership testing 5G applications. The 5Groningen Fieldlab is the world's first test field for rural 5G applications.
Read more
A Smart potato to reduce waste
Smart Potato
The smart potato; a device that takes measurements in the ground and transmits them to the farmer. This is to make growing potatoes easier for the farmer. A group of students from the Hanze hogeschool Groningen started working on this project with the aim of improving the quality of potatoes and reducing waste. The potato works through 5G. In the soil, the device takes various measurements, such as temperature and moisture content. This data is transmitted to the farmer. Based on this, the potato farmer can decide to irrigate or apply extra fertiliser.
Read more